Osborne & Little
is one of my favorite fabric sources, a British company, known for nearly five decades for their innovative fabric and wallpaper designs, they are my go to resource for a "wow" pattern for any room. The Mahrani Collection is no exception, made up of five patterns in a variety of colors, it has three bold florals and two coordinating geometrics, making it easy to mix and match. The patterns are printed on cottons and linens and are offered up in a trend setting, vibrant color palette. The inspiration for the collection has it's roots in Persia and the Ottoman Empire (since I couldn't tell it better, I am including O & L's brief description for each pattern in italics beneath the fabric).
Maharani
"The pomegranate trail originally designed by Henry Wilson for the SARISKAR WALLPAPER collection is now printed on linen-union."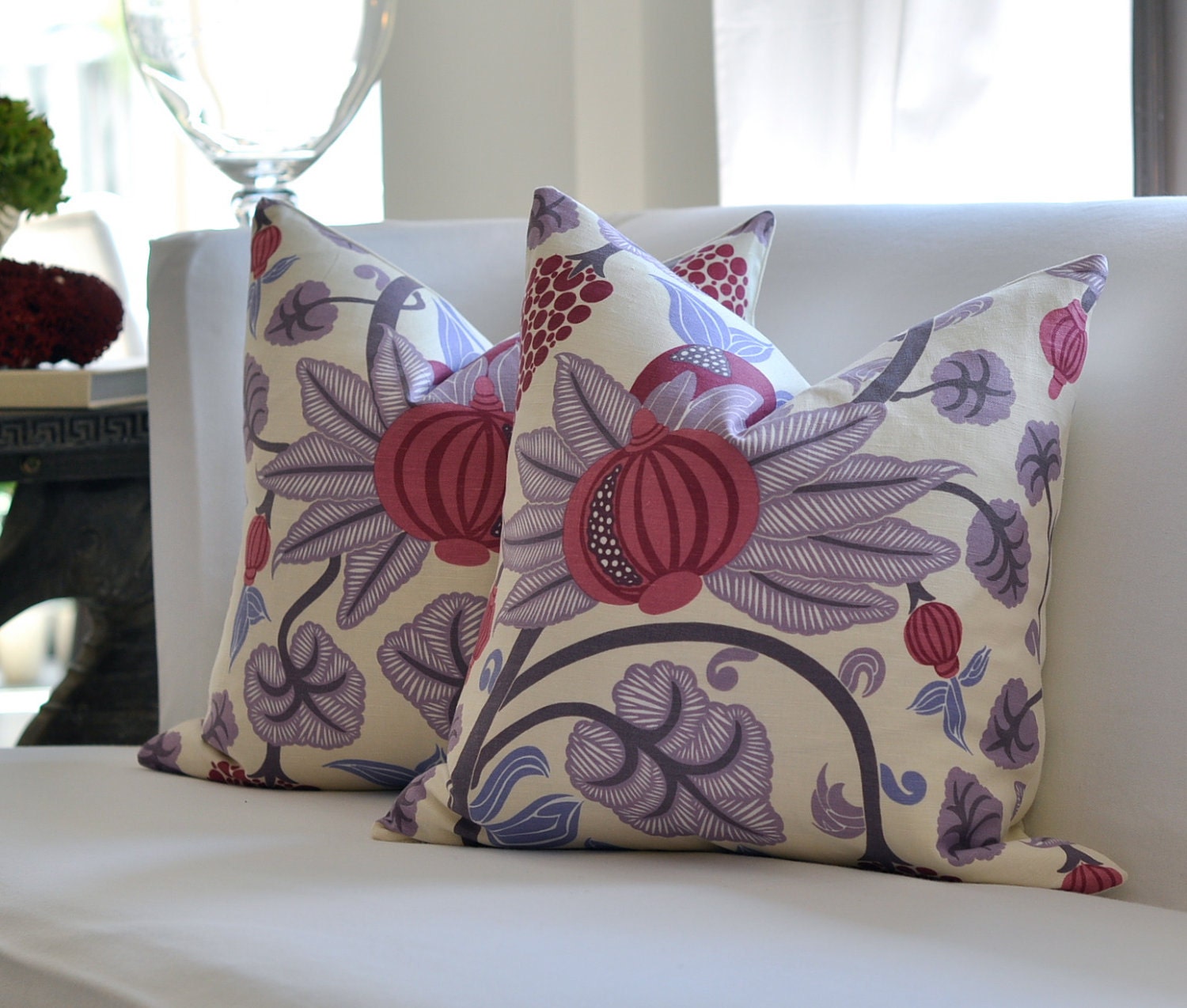 Woody Liana on etsy
Maharani wallpaper
Eclipse Wallcoverings
Balyan
"Small-scale interlocking cubes printed on cotton in colours to co-ordinate with the larger patterns. Named after the dynasty of Armenian architects who were responsible for the construction of the majority of Ottoman Empire's buildings in Constantinople."
Susa
"A large-scale linen-union damask given an up-to-date interpretation. Susa was an ancient city of the Persian Empire."
Babur
"Exotic tropical birds amidst contrasting foliage printed on pure cotton. Zahir ud-din Muhammad Babur founded the Moghul Empire."
Kashan
"A handsome block stripe on textured cotton in companion colours to the larger designs. The city of Kashan is the first of the large oases along the Qom-Kerman road which runs along the edge of the central deserts of Iran."
Unless otherwise noted, all photos Osborne & Little
Aren't the fabrics lovely? Rooted in tradition but with a nod to today's times, they would add an element of whimsey to any project.
In an effort to keep things interesting here at Room Rx, my question to you for today is how can I improve this "Fresh Fabrics Friday" feature? Do you enjoy it and should it continue? If so, what can I do differently? I have thought about doing a "linky party" where you folks could share your favorite fabrics or projects completed with fabrics, good idea? I try to share fabrics from high end, designer resources as well as other less expensive sources (for those of us with champagne taste on a beer budget) am I missing anything? Any other ideas? I would love to hear your thoughts.....
Does your room need a "prescription" for a change of decor, function or design?
If so please
contact me,
I would love to help your room feel better with a Design Concept Board or a complete Room Rx.