I feel like we've already been introduced. I'm Therese.
I'm the one who found a kindred spirit in Cathy Wall when my brother had the good sense to marry someone with my same interests. You know me as CSIL, and I've found it quite diverting to be featured here on Room RX since the blog's inception. Cathy says I am not one to let my DIY rock gather any moss because I finish my home improvement projects quickly.
But if your designer SIL said, "How you coming on those dining room cornices? I need a blog post for Wednesday…"
well, you'd get crackin', too.
I make expertly constructed, finely detailed pillow covers through my new business,
I
used to sew clothing for other people. Just word of mouth stuff I fit in between teaching piano lessons and performing my duties as mom.
I am from the era when home economics classes were the real deal: I actually sewed a pantsuit in my junior high sewing class. Learning to sew was one of those things my mom, and my generation, thought was important.
My grandmother made my mother fabulous party dresses for high school and college dances on Chicago's south side, but my mother tended to think more in terms of utility in her own sewing. With four boys and no cheap rough n' tumble clothing available at Target, and no Target, for that matter, Mom got good at churning out things like these solid colored t's that 2 of my 4 brothers are wearing...
(That's my oldest brother, Cathy's husband, in the Budweiser shirt and no, Mom did not make that one!)
Now I have three boys of my own whom I've outfitted cheaply through the years at the mall or chain stores. And since I wasn't sewing for them, I sewed for myself and for my home, developing not only my skills, but my efficiency at creating a quality product.
All aspects of making pillows gratify me.
I like pairing luxe fabrics and trims, and I like knowing I can complete a cover in a few hours or less and then move on.
As you may know, my husband and I recently downsized

.

This allowed me to leave my job as a public school music teacher. A recent weekend visit to Chicago with Cathy was spent formulating a sewing business plan. This plan is still evolving (Kalamazoo-area marketing is next on the to-do list),
It allows me to make my presence known as a seamstress and maker of unusual accent pillows.
Let me show you what I do...

A couple of things make my pillow covers unique, one is my stitched logo.




It's like getting two pillows for the price of one.



(all product photos above by Mike Lanka )


Another is the
appliqué
technique I have used in my sewing for years which lends itself beautifully for my pillow art.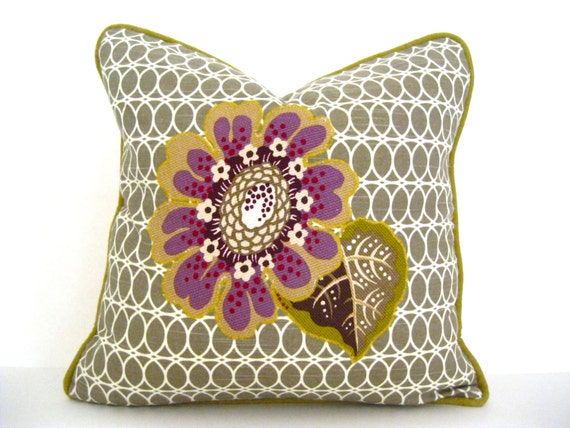 There is so much more I'd love to tell you about my pillows, but the best way is for you to come and see the whole line of pillows at my shop.



When you visit you will see that I have made it easy for you to find colors that work for you by sharing the Benjamin Moore colors that most closely match those in the pillow. Fool proof!
Don't see exactly what you want or need? Let's talk! I have a large palette of fabrics to work from, AND I know I can create the perfect look for your one of a kind pillow.
I can also work from your fabrics -- just say the word.
There will be new pillows added regularly, so don't miss out,
make sure you follow me on
and
Thanks so much for allowing me to share my exciting news today. I look forward to meeting and working with you as you add original
Therese Marie Designs
pillows to your home or design project.
Therese
&
--------------
Cathy
--------------
Does your room need a "prescription" for a change of decor, function or design?
I would love to work with you to help your room "feel better."
Contact me for more information about my design services.