The Chesterfield, a classic style for a chair or sofa with it's tufted back and rolled arms, is a great foundation piece for any sitting area. I found the chair below while searching for chairs for a client. Made by Hickory Chair, this is the "Cadillac" of upholstered pieces with a "spring down" seat, beautifully finished wood legs and high quality construction. A piece meant to last a life time, with a price tag to match (unfortunately I was unable to get an exact price as this is a custom item, suffice it to say, it probably costs well over $1500 in a simple fabric, more in a higher end fabric...)
Hickory Chair
Love the look but not in the market for a lifetime piece? Today's your lucky day as I found a couple of other similar chairs with price tags for those of us with the "beer budget."
This one would look great in a more modern setting due to it's dark, simple wood base and legs.
Home Decorators $229.00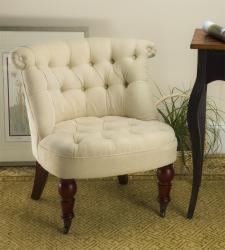 Darling in a bedroom or woman's office space, love the tufted seat and turned wood on the legs.
overstock $297.99
Enjoy my "low brow" goodies for the day. What bargains have you found lately?
Does your room need a "prescription" for a change of decor, function or design
? If so please contact me,
I would love to help!