Decorating with blue and white seems to be making a come back as I have seen it in several print magazines lately as well as all over the blog world and I could not be happier. It probably never went out of style as much as it fell out of favor, but is now being re-invented with fresh, new elements. The look is crisp, beautiful and timeless and the perfect canvas for mixing old and new. Think of a favorite pair of khakis, depending on what you put with them, the end result can be anything from Saturday casual, to preppy, to couture... you get the idea.
Istanbul Sunset
in the color Luna, by
Iman Home
for
Calico Corners
is a perfect example, with it's of the moment, water-colored, hand dyed look. The blue and white color story and ombre stripe pattern give it classic appeal, with a twist. Printed on 100% cotton, homespun fabric it has a wonderful "hand" and for $28.99 per yard is a great choice for a project needing lots of yardage.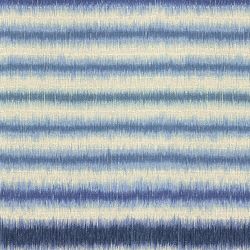 Istanbul Sunset - Luna
How to use Istanbul Sunset in a fresh way? How about creating a giant stretched canvas with a couple of yards and use it to anchor a room? This would be fabulous in a rental home where paint is not an option, but the need for color is great.
Emulate this look by running the striped pattern horizontally for window panels...
Of course pillows, cushions and bedding would look amazing in Istanbul Sunset...
Add varying shades of blue, fabrics with other hand dyed techniques and a liberal dose of white and you have the ingredients for an original look.
Style at Home
I think I like it...and you? I may have to dig out all of the blue and white goodies that I have slowly culled and packed away over the past several years and buy a few yards of Istanbul Sunset in Luna. Now, if only I had a room that was a blank canvas...!
Does your room need a "prescription" for a change of decor, function or design? If so please contact me,
I would love to help!